DriverAssist
Feature-heavy device driver manager that is easy on your PC resources. We take good care of your drivers and do all the tough work so you don't have to. Let DriverAssist take the guess work out of updating your driver.

TotalSystemCare
Fully-featured PC performance utility that's light on resources and easy to use. Optimizes all aspects of system function to ensure the fastest computer possible along with other helpful tools to give you a better PC experience.

SafeBytes Cloud Backup
Back up every video, photo, and document on your PC and access all of this data from any place at any time. Military-grade encryption guarantees your backups are uploaded safely and securely to the cloud.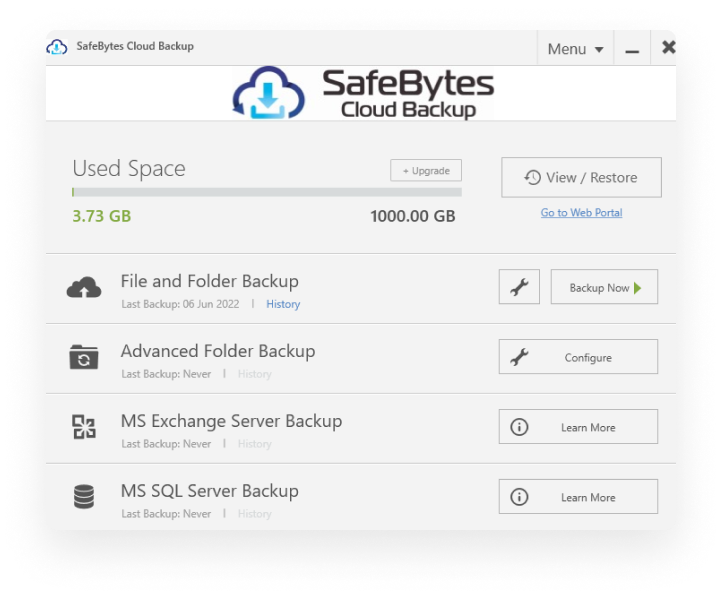 SafeBytes Cloud Backup
SafeBytes Cloud Backup is a cloud based utility that backs up every video, photo, and document on your PC. It gives you the ability to access all your backed up data from any place at any time. With military grade encryption, it guarantees backups are uploaded safely and securely to the cloud. SafeBytes Cloud Backup can transfer all types of files of which can be set by the user to have a customized solution.
Backups can be scheduled every hour, day, week, or month with a flexible scheduling system. It allows you to include what you want backed up when you want it backed up. Easily share or access any file you have backed up to the cloud via a secure cloud account, it gives the user full control over their data at any time.
DriverAssist
DriverAssist makes it easy to identify and seamlessly ensure your PC and connected devices have the most up to date drivers. DriverAssist automatically locates, downloads, and installs all missing drivers on your PC, enabling you to use both new and old hardware with ease. Take the frustration out of searching for missing or outdated drivers and let DriverAssist do the work for you.
Our extensive driver database is constantly being updated, ensuring you always get the most up to date or recent driver version for your selected devices. Updating your drivers is an important task which helps keep your devices running smoothly, efficiently, and glitch free.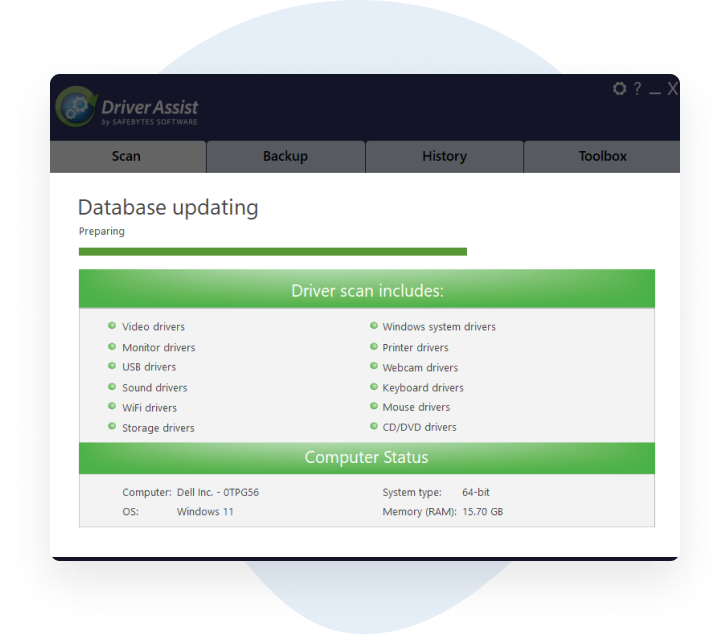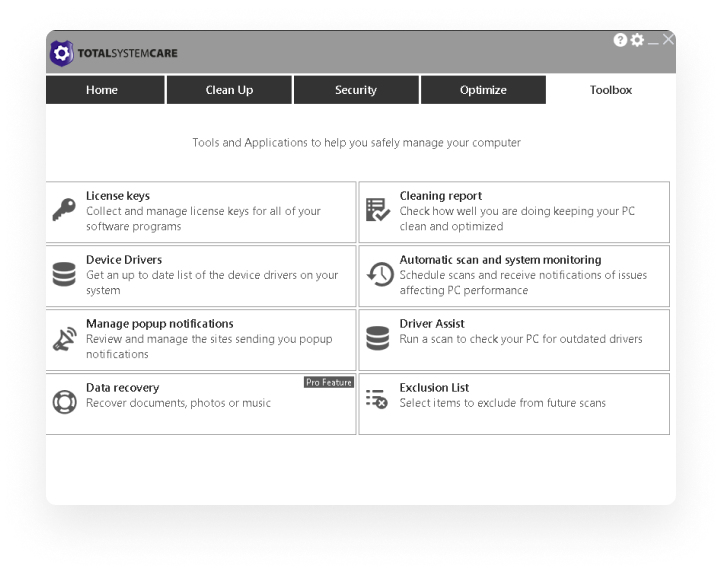 TotalSystemCare
TotalSystemCare is designed to clean, optimize, and improve PC performance by removing invalid and outdated clutter on your computer. Over time, Internet browsers, Windows components, and other software programs can develop issues which can cause conflicts, crashes, and reduced PC performance.
TotalSystemCare scans a number of different areas where stability issues may be hiding, including missing and corrupted virtual devices and drivers, program DLL issues, and corrupt and missing help libraries. Remove unnecessary files and temporarily halt background applications when you're not using them to help make your PC more efficient and stable.
We Provide Simple Solutions to Complicated PC Problems
SafeBytes products and services were designed to make it easy for our customers to use. Our interfaces make it easy for even the novice user to handle their computing issues with a few clicks of the mouse.
We are here to help! Our customer care team will always lend a helping hand to make sure our users are satisfied. Being good isn't enough for us. We pride ourselves on being the best we can be at all times.
World Class Customer Care
Since 2013, we have continuously enhanced our technologies to make sure we are providing our users with the best products and services to keep their data safe, PCs working at peak levels, and simplifying the process along the way.

SafeBytes Products Are AppEsteem Certified
The world's leading cybersecurity companies trust AppEsteem to help protect billions of people.

Consumer Clean Applications
The AppEsteem certification process ensures that Safebytes' products are consumer clean and user friendly.

Cybersecurity Partnerships
AppEsteem's cybersecurity partnerships share an unwavering commitment to protecting consumers from cybercrime.

Rigorous Certification Process
DriverAssist and TotalSystemCare have passed AppEsteem's stringent testing requirements and have received certification.

Annual Recertification Process
Each year the Safebytes certified products are resubmitted to AppEsteem for recertification.